Finland is one of the most beautiful countries in the world for migration and leisure travel, full of wonder. From its unique architecture to its polar lights, there are countless reasons to visit Finland. In this article from Finlandq, we will introduce you to some interesting facts about Finland.
Finland is the happiest country in the world.
Nordic countries often rank high on the list of the happiest countries in the world, but in 2020, Finland surpassed all other countries and ranked first. Various factors are considered for this ranking, including people's hope for a good life, freedom to choose their path in life, and economic ability, among others. Examining these factors has shown that the standard of living and welfare in Finland is high, and many people are satisfied with it. Therefore, Finland is the happiest country in the world.
Almost half of the foreign population in Finland lives in Helsinki.
At the beginning of 2020, 423,494 foreigners lived in Finland. Of this number, 209,108 people live in the Helsinki area and continue their work and studies in this city. With the recent popularity of Finland, the number of foreign residents in Finland increases each year.
Finnish is completely different from the Scandinavian languages.
Although Finland is often associated with Scandinavia, its language has nothing in common with its Scandinavian friends. To live in Finland, you must know Swedish or Finnish, but most Finns (nearly 90%) are proficient in speaking and understanding English, which is also a reason why many individuals consider moving to Finland.
All Finns learn Swedish in school.
Swedish is an important language in Finland, to the extent that it has been designated as an official language along with Finnish. Swedish is mainly spoken on the western and southern coasts of the country, and about 5% of Finns consider Swedish as their mother tongue.
Finns are the biggest coffee consumers in the world.
Most people think that the coffee capital of Europe is Italy or France, but this notion is incorrect. It is Finns who consume more coffee than any other country, not only in Europe but also in the world. On average, a Finn consumes 12 kilograms of coffee per year, and drinking eight cups of coffee a day is not considered unusual.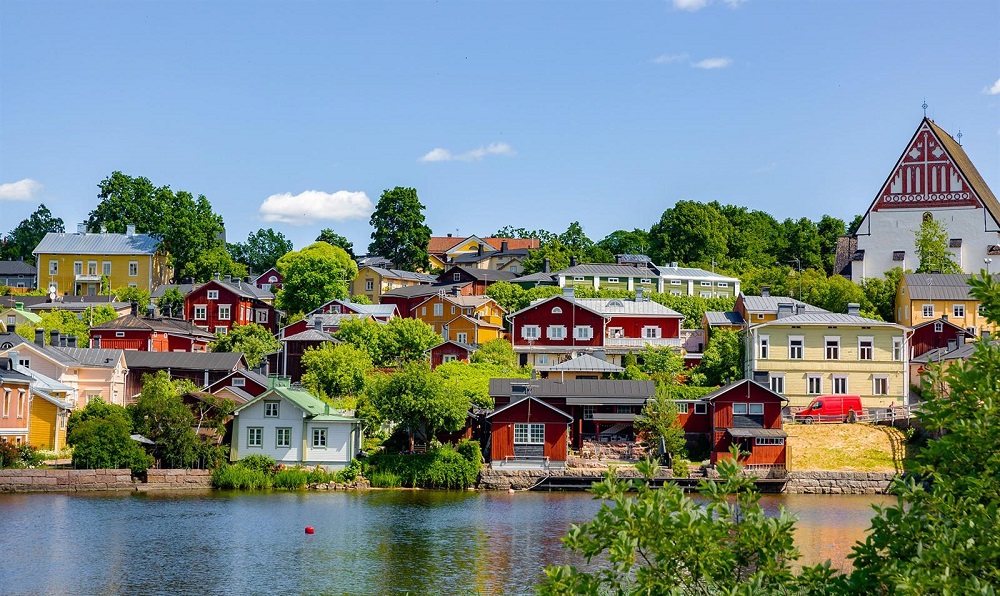 In Finland, there are 187,888 lakes.
Finland is known as the land of a thousand lakes, but in reality, this number is more than 187 times greater. There are about 187,888 lakes in Finland, of which around 57,000 have an area larger than 10,000 square meters, and the rest are smaller in comparison.
Most Finnish children have two birthday celebrations.
Birthday celebrations are essential for children in Finland. Many of them have two birthdays, one for friends and another for family.
Finns are crazy about saunas.
Estimates show that there are around two million saunas in Finland, which is not a small number for a population of 5.3 million people. Saunas can be found in apartments, forest houses, and even some large companies and government institutions!
74% of the country is covered by forests.
Finland has more forests than any other European country. Forests cover 74% of the country, along with lakes, giving Finland exceptional natural beauty. Pine, spruce, and birch trees are the most common species found in Finland's forests.
The famous game Angry Birds originated in Finland.
The famous game Angry Birds started its life in Finland. Angry Birds is not the only global game that originates from Finland. Nokia Snake – undoubtedly the most influential mobile game ever – and Clash of Clans are also Finnish products.
Other Facts
Finland has a rich history, and its people have always been at the forefront of change. In fact, after the Russian Revolution in December 1917, Finland was the first country to declare its independence from Russia. Other countries like Poland, Estonia, Latvia, and Lithuania followed suit in 1918.
In 1906, Finland became the first nation in the world to grant women the right to vote. This progressive attitude is not limited to politics; it extends to many aspects of Finnish society. The country boasts an incredibly well-functioning government, with minimal tension between politicians.
The Finnish education system is widely regarded as the best in the world. Students enjoy a high standard of living and knowledge, thanks to the country's robust educational framework.
Moomins, troll-like creatures that inhabit the valleys of Finland, are famous worldwide and have become symbols of children's literature. These characters were created by Tove Jansson, a Finnish-Swedish author, in 1945. Today, the world's first and only Moomin museum is open for visitors in Tampere.
Finnish people value the privacy of those around them, and this is reflected in their everyday interactions. If you take the metro in Helsinki, you'll notice that nobody speaks without reason, making it one of the calmest metros you'll ever experience.
The Finnish national dance is Tango, which arrived in the country around 1913. Since then, it has become immensely popular among the people, and there is still a great deal of interest in it today.
Despite being severely affected by World War II, Finland has maintained its neutrality, allowing it to focus on sustainable growth and development without conflict. Interestingly, the land in the Gulf of Bothnia expands approximately one centimeter each year, turning the sea into dry land that measures around seven square kilometers annually.
Kerimäki Church is the largest wooden church in the world, boasting 3,400 seats. While you won't see any paintings on its walls, it is a historic and popular destination for visitors during summertime and at Christmas.
Turku Castle is one of the most significant medieval buildings in Finland and an important tourist attraction. This castle has hosted many historical events throughout history and has maintained its magnificence and grandeur.
Lapland, Finland, is one of the best places in the world to see the Northern Lights, a natural phenomenon where green lights appear in the sky around 200 nights a year. It is undoubtedly one of the most beautiful sights you'll ever experience in your lifetime.
Santa Claus's official postal code is 96930, and around 700,000 letters and wishes list from approximately 200 countries reach him there each year.
In Lapland, the sun barely rises during winter, making the days dark and cold. However, in the north of the country, the sun remains above the horizon for over 70 consecutive days, earning the term "Midnight Sun" for the period when the sunset cannot be observed for long periods.
Aland Islands, located between Finland and Sweden in the Baltic Sea, are the only areas in Finland where Finnish is not the official language. Swedish-speaking people enjoy a high degree of autonomy and have their own flag and postage stamps.
In Finland, landowners are allowed to use and enjoy nature without any permission, so picking various berries and mushrooms in the forest is explicitly permitted, and you will not receive any warnings for trespassing.
Statistically speaking, out of every five Finnish households, one has a summer cottage named "mökki," many of which are located by lakes. Many of these cottages are equipped with saunas because saunas are an integral part of everyday life for Finnish people. In general, Finns have more saunas than cars, with around 2.2 million saunas in the country.
The sauna is a significant tradition and ritual in Finland. About 99% of the population goes to the steam bath at least once a week, demonstrating how important saunas are to their lives.
If the sauna is too hot for you, try winter sports instead. For example, in Ruka, Lapland, there are 34 ski slopes that operate from October to June. Additionally, you can also try dog sledding, ice fishing, and other activities.
Since 2010, Finland celebrates October 13th as "Failure Day" where they believe that failure should not be condemned. The aim of celebrating this day is to learn from past mistakes and prevent them from recurring in the future.
Deer are commonly seen on Finnish roads. To prevent accidents, the Finnish Road Administration has prepared a deer warning program that alerts drivers with a bell-like sound similar to Santa Claus's sleigh if a deer is nearby.
Nokia, a Finnish mobile phone manufacturer, was the global market leader from 1998 to 2011. Although those days may be over, Finns' love for mobile phones remains, which is why there are no longer any telephone booths in the country.
Are there more facts about Finland? Sure there are. Share them with us and wait for more content about Finland's facts and trivia.