For immigration to other countries, there are various ways such as work immigration, study immigration, investment, and more, each with its own benefits. Finland is one of the European countries that offers free education to people of all ages and provides them with a profession that ensures good job security in the future. Do you want to be able to visit different buildings and take care of everything? We recommend the cleaning course in Finnish schools; join us in this article to explore Cleaning Course in Finland
Introduction to the Cleaning Course
In Finland, courses known as professional technical courses (Amis courses) are offered. During these courses, you can acquire the necessary skills to start your career and receive a valid certificate. The closest definition to the Finnish cleaning course is professional technical courses where you learn a skill and use it in your profession. Amis courses have a wide variety, and you can choose one depending on your future career. Some people prefer to enter IT fields, while others choose technical jobs like welding. If providing services to customers and taking care of various properties is appealing to you, the cleaning course is a good choice.
Cleaning Course in Finland
In the cleaning course in Finland, you will learn how to maintain and clean a building. Other topics, such as repairs and maintenance, working with tools, customer service skills, and more, will also be taught so that you learn all the necessary details for a professional start in this field. In addition, more complex topics like factors affecting the lifespan of buildings are covered in the course to help you make the most of this knowledge during property maintenance.
After completing the course, you can start working for a company, but if you wish to make further progress, you can start and manage a business related to the cleaning course. The possibility of studying at a university is also available for individuals who do not intend to enter the job market.
Duration of the Cleaning Course in Finland
The duration of completing the cleaning course in Finland depends on individual circumstances, but on average, it takes between 3 to 4 years. Some individuals finish their course in less than 3 years with more effort to enter the job market sooner. The study period is determined by the Personal Competence Development Program (PCDP) and factors such as previous relevant education level, work experience, and personal knowledge play a role.
Job Opportunities
After completing the cleaning course in Finnish schools, various job opportunities will be created for you, with the most common ones including:
– Cleaning and maintenance services for properties
– Building repairs and maintenance
– Home cleaning services
It's important to note that completing this course does not limit your work to residential buildings. You may be employed in a commercial office building, a hotel, transportation facilities, various institutions, shopping centers, and stores. In addition, planning cleaning or maintenance of a hospital, daycare centers, industrial factories, swimming pools, buildings, and more may be entrusted to you in this role.
If you do not want to work for another company, with comprehensive knowledge in maintaining and repairing various small and large buildings, you will be able to establish a business where you provide cleaning services or its planning.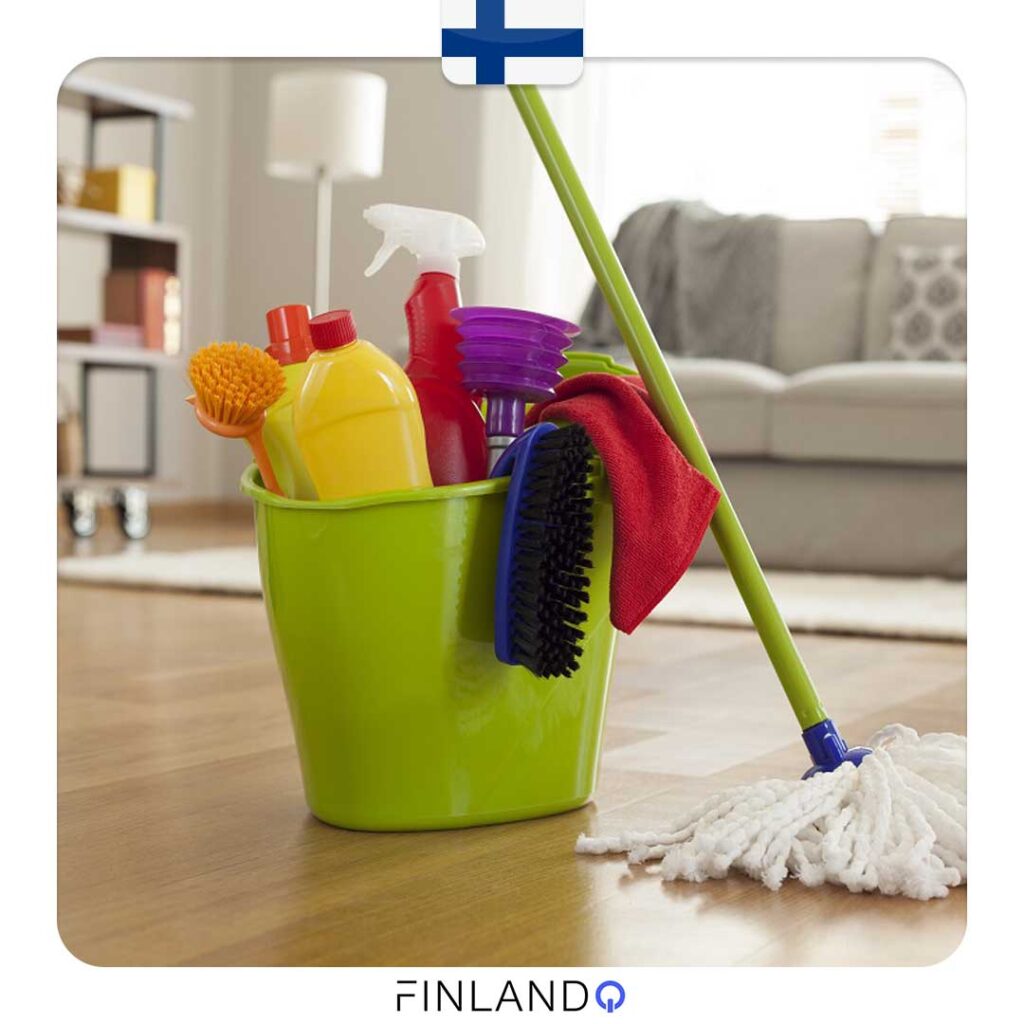 Professional Institute Offering the Cleaning Course
The cleaning course in Finland is offered by the Lappia School. This school, through strong educational courses, allows its students to acquire very good skills and use them in their future lives. It is not necessary to be under 20 years old to study at Lappia; working individuals looking to change their careers can also register in the school and acquire new skills.
In general, Lappia schools have around 3,500 students under the supervision of 360 teachers, benefiting from Finland's high-level education system. The only necessary condition to start studying at this school is to be at least 18 years old. Some of the courses offered there include service professions, technology-related fields, environmental studies, and more.
Facilities Provided in the Cleaning Course in Finland
One of the most important reasons that prove Finland is the best choice for continuing education is its exceptional educational system. This educational system uses a specific method of teaching and yields very good results. However, to attend Finnish schools, there will be no need to pay any fees. Among the facilities of the Amis course in Finland, we can mention the following:
Free tuition
Free lunch
Quick employment after receiving the Amis certificate
The opportunity to participate in university courses after completing the course
Free accommodation
Graduation in 2 to 4 years
Required Documents for Registering in the Amis Cleaning Course
You don't need many documents to register for the Amis courses in Finland. If you are proficient in the Finnish language, presenting the following documents will be sufficient to start your education in this country:
Finnish language certificate (Level 1)
Latest educational certificate (high school diploma and above)
Motivational video in Finnish
Vaccination records
Identity documents
Opportunity for Marital and Single Individuals to Migrate for Education in Finland
Your marital status does not pose any problem in the process of obtaining an Amis position. Whether you are single or married, you can easily participate in the Amis course of your choice. For single individuals, presenting a Finnish language certificate is sufficient to obtain a visa for entry into Finnish schools. On the other hand, for married individuals, the same conditions apply with the difference that they can also obtain visas for their spouse and children under 18 and migrate as a family.
How to Apply for the Amis Course in Finland
The process of applying for the Amis course in Finland is not difficult. It is enough to first gain good proficiency in the English or Finnish language and then proceed to submit your application. In this section, we will briefly examine the process of applying for the Amis course.
In the first step, an interview is conducted in English or Finnish. During the interview, the interviewer will ask you questions, and you need to be able to answer them. If you know English, you can learn Finnish by using English and participate in the interview in English. However, if you don't have a good command of English, you can learn Finnish directly. Learn more about the Finnish path on our blog.
If the interview is conducted in English and you successfully pass it, Finnish language classes will be offered to you to learn the basic principles of the language. The time required to obtain the language certificate is 40 weeks, with classes held five sessions per week and online by FinlandKIO. As long as you achieve an acceptable level, these classes will continue. However, when you reach level B2, you can send your application to various schools. At this stage, we will also be there to support you.
After receiving acceptance from a school, the remaining steps will be carried out with the help of the FinlandKIO team so that you can obtain your study visa and residence as quickly as possible.
If you have any questions regarding how to apply for the Amis course in Finland, you can contact our experts to get the necessary information.
Closing Remarks
One of the practical Amis courses in Finland is the cleaning course, in which many useful tips for maintaining and repairing various commercial, administrative, residential, and hotel buildings are provided. The duration of the Amis course is 3 to 4 years, and upon completion, you have the opportunity to continue your education at a university or enter the job market. After completing the course, you can work for a company or start a related business of your own.