In the following article, we will investigate the Practical Nurse course in Finland in full detail. So, if you are interested in studying in this field and migrating to Finland, stay with us.
In recent years, many European countries have faced a severe shortage of workforce in the nursing and caregiving field. Finland is also experiencing an increasing shortage of nurses. Factors such as retirement of nurses, lack of new workforce, and the need for care of the elderly and disabled individuals (at home) have led to these countries' high demand for attracting workforce in the nursing and caregiving field. Therefore, offering nursing and caregiving courses in Finland provides an excellent opportunity for nurses and those interested in this field to migrate.
Studying nursing in Finland through vocational courses has made it easier to immigrate and reside in the country. The Practical Nurse course in Finland's vocational courses is not only suitable for individuals with experience or qualifications in nursing but also for all individuals over 18 years old who have no background in this field.
Therefore, if you are interested in healthcare and social services, by participating in the free Practical Nurse course, you can acquire the knowledge and experience needed to specialize in this field. This will enable you to start your work in medical centers, health care education centers, elderly care and rehabilitation centers, home care, or hospitalization and health departments.
Requirements for studying nursing and Caregiving in Finland
Before anything else, it is better to review the prerequisites for entering this field:
○ Minimum age of 18
○ Having a diploma or higher academic degree
○ Finnish language proficiency level 2 (B1.2 level)
○ Physical and mental health to study and work as a nurse
○ No prior negative record
Given that one of the prerequisites for entering the nursing profession in Finland is physical and mental health, we will now discuss some limitations and obstacles to accepting students in this field:
● Mental disorders: untreated psychosis, severe current depression, or any other mental disorder that impairs your ability and performance in a practical learning environment.
● Musculoskeletal disorders: injuries or limiting conditions that impair your physical health and prevent you from performing practical tasks and exercises.
● Debilitating skin diseases: suffering from some skin diseases such as chronic rash that prevents the individual from performing educational tasks and duties.
● Addiction: substance abuse or problematic addictions that impair the individual's physical and mental state.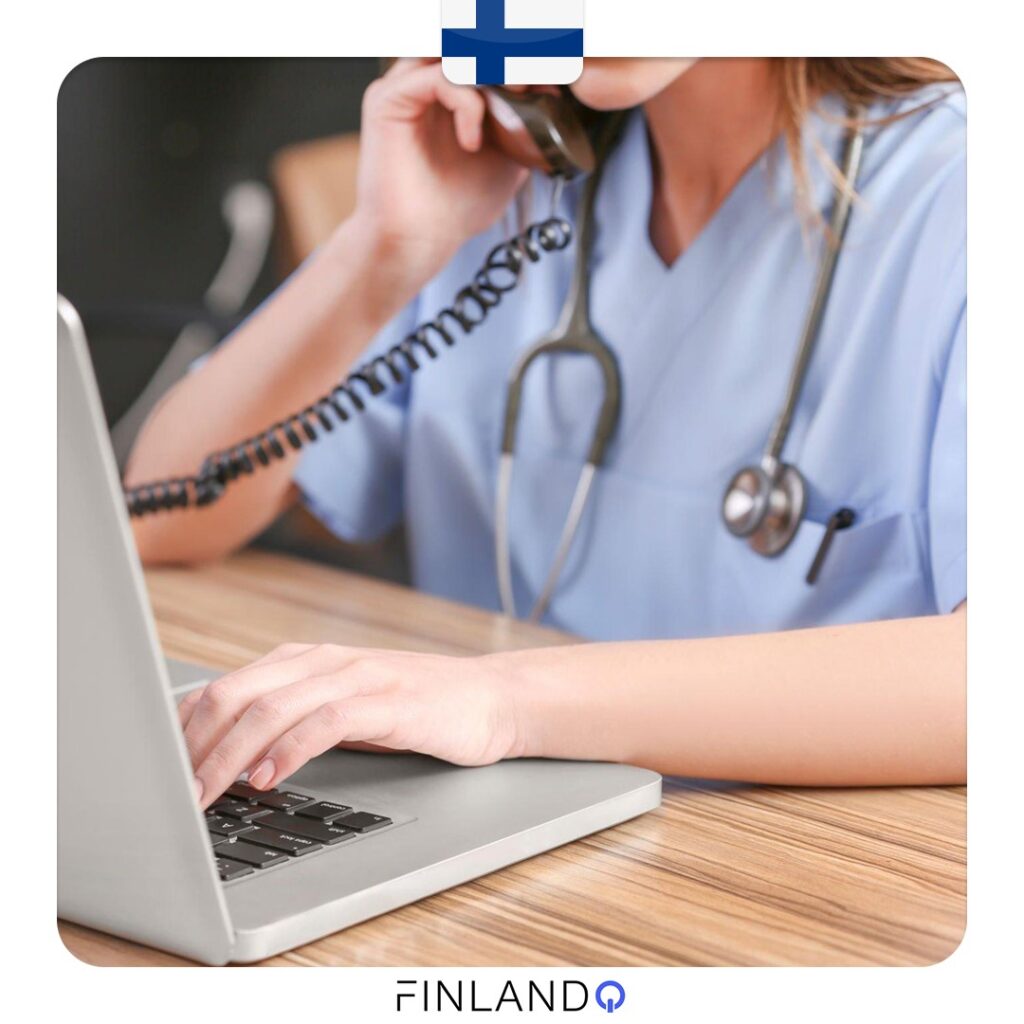 Professional Institutes Offering Practical Nurse Programs
As there is a high demand for healthcare workers, there are numerous professional institutes in Finland that prepare international students for specialization in this field in both Finnish and English.
Therefore, each student can choose one of these institutes and proceed to obtain acceptance.
It should be noted that students can only select one course from each educational institution. If you have chosen the practical nurse program for migration to Finland, three professional institutes in different cities in Finland can accept you as a foreign student:
Practical Nurse Program at STEP Education in the Cities of Järvenpää and Pieksämäki
STEP-KOULUTUS or STEP Education is a private educational institution that is managed by Kirkkopalvelut and holds multiple courses annually in the fields of health, social, and human sciences.
This faculty has close to 100 teaching staff, and the number of its students reaches 1,100 each year. Additionally, thousands of students also enroll in short-term and special courses at STEP Education annually.
The Practical Nurse program at STEP Education covers comprehensive skills in this field and prepares students professionally for entering the nursing job market. The curriculum of the Practical Nurse program at STEP Education includes good growth and high activity, improving health status, and capacities. In addition to these, communication and interaction skills, math skills, and social and work skills are also part of the educational program.
In the specialized section of the Practical Nurse program, after passing basic courses, students must select one of the following areas as their specialty:
● Care for people with disabilities
● Care and Nursing
● Elderly Care and Rehabilitation
If you decide to change your specialty after selecting it based on your work conditions and abilities, you can contact the educational consultants and take action to change your specialization.
During the Practical Nurse program at STEP Education, students must complete their apprenticeship course to graduate as professional nurses and be ready to serve.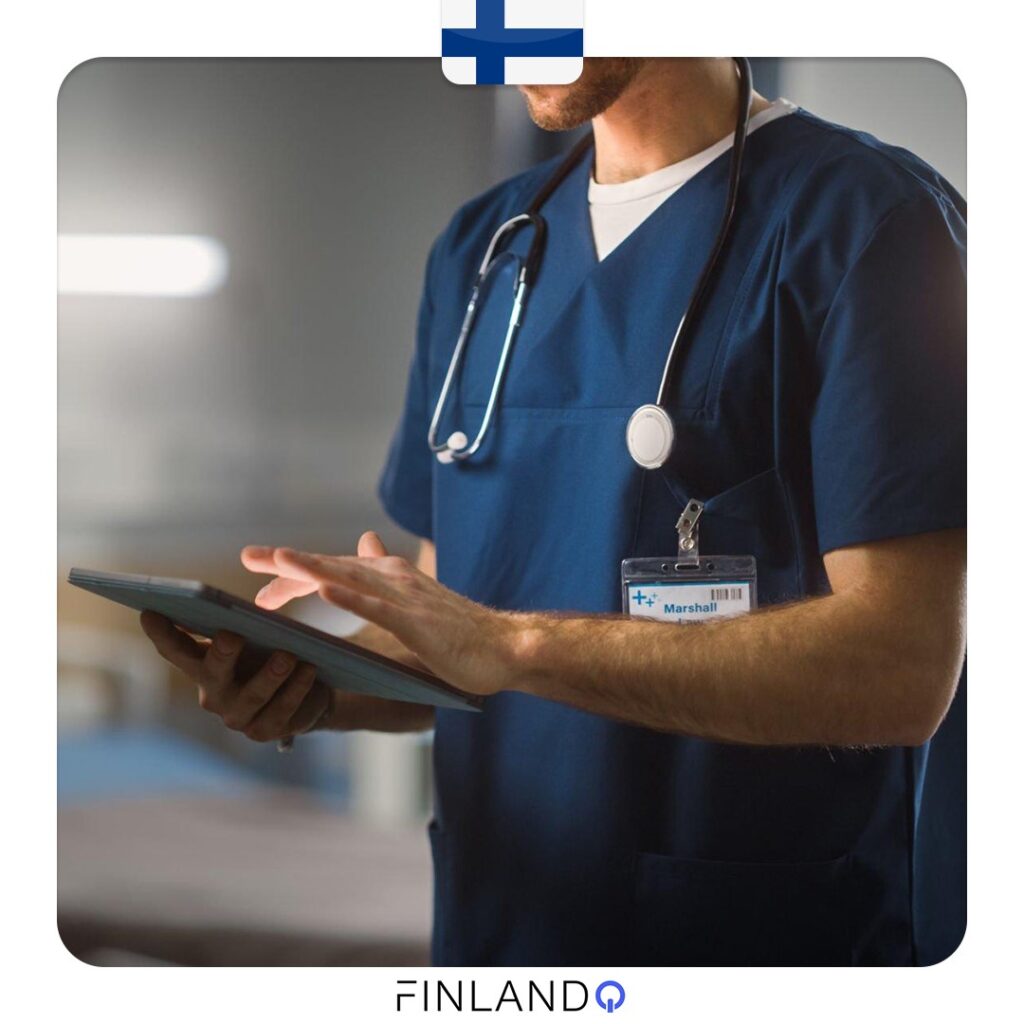 Advantages of Participating in the Practical Nurse Program at STEP Education:
● Free Education
● Free bicycle
● Free lunch at school
● Free dormitory without paying for electricity and water bills
● Students residing in the dormitory receive free breakfast, lunch, and dinner from Monday to Saturday, from August to May every year.
Practical Nurse Program at Riveria in the Cities of Joensuu, Lieksa, and Kitee
Riveria is one of the largest vocational schools in Finland, with many international students participating in its specialized courses annually. Riveria's educational programs include theoretical subjects, practical work, and international activities.
The curriculum of the Practical Nurse program at Riveria is designed in such a way that individuals learn the basic principles of nursing during their initial years. Then, in the final years of study, they pursue specialized areas in this field.
Specialized areas include optional units of the nursing program that individuals can choose based on their interests and skills.
An important part of the Practical Nurse program at Riveria is the apprenticeship during the study period. Therefore, theoretical and practical education while working helps you graduate as a professional nurse.
Advantages of Enrolling in the Practical Nurse Program at Riveria
● Free Education
● Free lunch at school
● Possibility of apprenticeship during the study period
● Immediate employment opportunities after graduation
Practical Nurse Program at Lappia in the Cities of Lieksa and Kitee
Lappia Vocational College (Ammattiopisto Lappia) is one of the providers of the Practical Nurse program, which provides students with the opportunity to complete their studies in a professional environment. One of the main advantages of Lappia Vocational College is its international activities.
International operations and collaborations are a natural part of the daily activities of Lappia Vocational College, which will have a significant impact on your learning and nursing career.
In addition to the practical nursing program, Lappia Vocational College also offers admission in five other branches. Therefore, in each academic year, 3,500 students are studying alongside a professional teaching staff of 260.
After completing the program and obtaining a degree from Lappia Vocational College, students can also pursue studies in other fields, secondary schools, and even universities outside of Finland. Therefore, with a valid degree from this institution, you can take steps towards both work and higher education opportunities.
Specializations and Fields of Study at LAPPIA Education
● Childcare and Youth Education: By choosing this field, individuals will receive the necessary education on child growth, helping to maintain health, and educating children and parents.
● Mental Health and Substance Abuse: Individuals who are interested in mental health and addiction can choose this specialization. They will receive instruction on maintaining mental health and preventing substance abuse, and then they can work in related centers.
● Elderly Care and Rehabilitation: This field includes educational topics such as elderly care, identifying the abilities of the elderly, and helping to increase their productivity.
● Nursing and Care: If your goal of participating in the Lappia Practical Nurse program is to work in medical centers and emergencies, you should choose the nursing and care field. In this field, you will learn about improving the health of patients and caring for them.
● Care for Individuals with Disabilities: As a nurse, you must have the ability to care for people with disabilities. You will receive education on identifying and enhancing personal and social capacities of individuals with disabilities. Moreover, you will also receive training on increasing the capabilities of individuals with disabilities in performing their tasks.
The advantages of participating in the Lappia Practical Nurse program include:
● Free Education
● Free lunch at school
● Employment opportunities such as apprenticeships during the study
● Immediate employment opportunities after graduation
● The possibility of continuing free education at higher levels in Finland
The educational topics of the Practical Nurse program in Ammattiopisto Lappia are delivered to students through instructional tasks, group and project work, classes taught by professionals in this field, small group training, and on-the-job learning. Therefore, students receive educational topics through 3-5 days of classroom practice per week.
The theoretical and practical education in the Practical Nurse program will help you acquire comprehensive and professional skills for your nursing career.
Duration of the Practical Nurse Program in Finland
The duration of the Practical Nurse program in Finland varies for each individual depending on their abilities and previous experience. In general, the duration of the program is between 2 to 3 years (maximum of 4 years). The duration of the study is determined by the Personal Competence Development Program (PCDP) based on the individual's previous studies, work experience, and educational needs.
Therefore, individuals who have prior experience in nursing or caregiving may have a very short duration of the study (less than 1 year). As a result, these individuals can quickly find their desired job position after completing the program and obtaining their degree.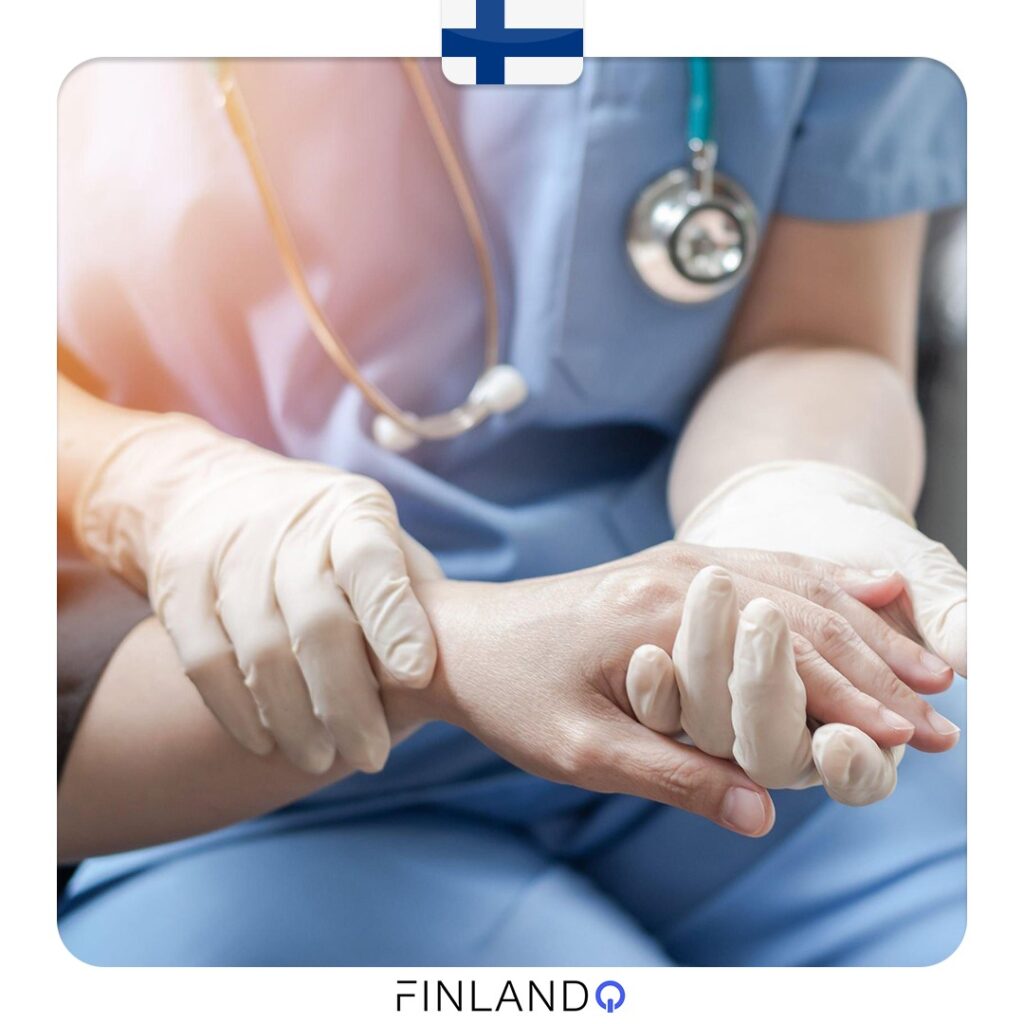 Future employment prospects for Practical Nurses
The future employment prospects for Practical Nurses can be divided into two categories: healthcare and social care. In both cases, there is a need for trained professionals, and graduates can choose their preferred job based on their specialization and interests.
Practical Nurses can work in hospitals, health care centers, home care centers, nursing homes, and residential care centers for people with disabilities, and special needs individuals.
Some of these centers are government-owned, and hiring is done by municipalities. Private employers also offer employment opportunities, and each nurse can choose a suitable center to start their career depending on their life circumstances.
Practical Nurses also have the option to become self-employed or entrepreneurs. These nurses can establish a health care center using the capital they have available.
In Finland, working conditions for Practical Nurses are favorable due to the high standards of welfare and quality of life. Therefore, most professions offer good working conditions. Nurses also have access to modern hospital equipment, and the work environment is comfortable.
● Hospital Equipment: Finland has one of the world's most efficient healthcare systems, with several digital solutions companies offering artificial intelligence in the medical industry to increase efficiency.
● Work Environment: Employers receive employees' opinions about the work environment during work meetings and continually strive to create suitable conditions for their staff.
● Working hours: Working hours in Finland vary depending on the job type, but shifts typically begin earlier and are longer in the evening, which is why nurses' salaries on the night shift are higher.
Salary
Nursing is one of the best professions in Finland, and as mentioned earlier, there is currently a high demand for skilled professionals in this field. Therefore, with a Practical Nurse degree, you can easily find the job you need. You can also work part-time as an apprentice during your studies. Due to the high demand in this field, suitable salaries have been considered for nursing jobs in Finland.
The salaries of nurses in Finland range from 2910 euros (minimum average) to 8720 euros (maximum average), and on average, nurses' salaries are around 4530 euros.
The exact amount of nurses' salaries depend on various factors such as overtime hours, night shifts, weekend shifts, and so on. Therefore, each person can earn a suitable income in the nursing field based on their chosen job type and abilities.
Language requirements
The language requirement for participating in the nursing and caregiver course is similar to other vocational courses, which means you can start learning Finnish or English. Since studying will be in Finnish, it depends entirely on whether you have received a Finnish language certificate for free vocational courses.
At Finlandq, we are with you throughout the 40-week Finnish language program, where you can learn Finnish to English or Finnish to Finnish according to your preference.
If you have a good command of English (at least IELTS 5.5), you can proceed with learning Finnish. In this case, teaching will be in English.
Individuals who do not have a good command of English can also learn the language of this country by participating in a Finnish language course (taught in Finnish) and then registering and participating in the Practical Nurse course after obtaining a Finnish language certificate (B1.2 level). The B1.2 level Finnish language certificate indicates that the person has natural conversational skills in normal, work-related, and leisure-time situations.
Free education in Finland requires learning the language of this country, and after mastering the intermediate level, you can study in your desired field.
The Finnish language learning program will be 40 weeks in both cases. Therefore, after completing the 40-week course, you can obtain a B1.2 level Finnish language certificate.
Finlandq team will be with you throughout all stages of admission, including learning the Finnish language, so all you need to do is plan properly and think about your future studies without any stress.
The requirements for educational immigration
The requirements for educational immigration through participation in AMIS courses can be divided into two groups:
Single individuals over 18 years old:
Obtaining admission and a visa for individuals over 18 years old is also very easy, and after obtaining a Finnish language certificate, you can guarantee your future with a study residence permit.
Married individuals:
Married individuals who intend to obtain admission to the nursing and caregiver course or other courses can also obtain visas for their spouses and children under 18 years old. Therefore, you will also have the possibility of family immigration to Finland, and you cannot obtain a visa for your children over 18 years old.
Vocational courses: Nursing course
Immigrating to Finland through nursing studies is one of the cheapest ways to migrate to this country. You will not incur any costs for participating in the Finland nursing course, and your studies in Finnish will be completely free.
The only cost you will incur is the cost of learning the Finnish language to obtain a Finnish nursing certificate. Therefore, you will not incur any tuition fees for other stages related to registration and study.
The extraordinary advantage of vocational courses is that with knowledge of the Finnish language, you can participate in these courses as a foreign student completely free of charge.
The required documents include:
● Identification documents
● Finnish language certificate (2 levels)
● Latest educational certificate (high school diploma or higher)
● Lack of criminal record
● Vaccination history
● Introduction/motivational video in Finnish
Vaccination records are one of the documents required to obtain admission and study nursing in Finland. Therefore, you must provide vaccination records that include the following vaccines:
● MMR
● Hepatitis B
● Chickenpox
● COVID-19
Summary
We have fully reviewed the process of admission, residence conditions, and life in Finland through studying practical nursing. If you are currently a nurse or caregiver with work experience or are interested in gaining expertise in this field, simply contact the experts at Finlandq to receive the necessary guidance.